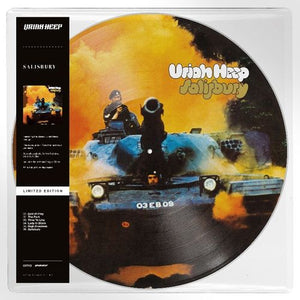 | | |
| --- | --- |
| Release Date | 28/01/2022 |
| Format | LP Picture Disc |
| Label | Sanctuary Records |
| Catalogue Number | 4050538689792 |
'Salisbury' by Uriah Heep, Picture Disc Vinyl, Limited Edition, Official Collectors Release, The sophomore album which helped pioneer the heavy metal genre. LP set on heavyweight vinyl.
BMG are jubilant to announce the release of 'Salisbury', the sophomore studio album from Uriah Heep, on an Official Picture Disc LP for the very first time. Containing the original audio recorded in Lansdowne Studios, this new pressing of the album contains the hits 'High Priestess', 'Lady in Black' and more.
This incredible album was first released in June 1971.

Tracklist:
A-Side:
1. Bird of Prey
2. The Park
3. Time to Live
4. Lady in Black
B-Side:
1. High Priestess
2. Salisbury