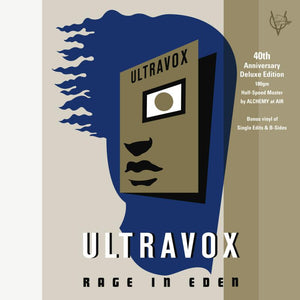 Release Date
30/09/2022
Format
2LP Half Speed Master/
4LP Deluxe
Label
Chrysalis
Catalogue Number
CDLH1338/
CDLL1338

Following on from the success of 2020's deluxe reissue of 'Vienna', Chrysalis Records are proud to release a 40th Anniversary of the bands second album with Midge Ure, 'Rage In Eden'.
Originally released in October 1981 and like the band's previous two albums, 'Rage In Eden' was produced by Conny Plank (Kraftwerk, Can, Neu!), this time recorded at Conny's studio in Cologne over a 3 month period during the summer of '81. The album features hit singles The Thin Wall and The Voice. The album reached number 4 in the UK charts.
This new vinyl edition has been mastered and cut at half-speed by Alchemy at AIR from the original 1981 production tapes. The second bonus vinyl includes single versions and B-sides from the two singles released from the album.
Tracklist: 

Disc 1
1. The Voice
2. We Stand Alone
3. Rage In Eden
4. I Remember (Death In The Afternoon)
1. The Thin Wall
2. Stranger Within
3. Accent on Youth
4. The Ascent
5. Your Name (Has Slipped My Mind)

Disc 2
1. The Thin Wall (Single Version)
2. I Never Wanted To Begin
3. I Never Wanted To Begin (Extended Version)
1. The Voice (Single Version)
2. Paths And Angles
3. Private Lives (Crystal Palace 13/6/81)
4. All Stood Still (Crystal Palace 13/6/81)

Disc 3
1. The Thin Wall (Live at Hammersmith Odeon, London 16/10/1981)
2. New Europeans (Live at Hammersmith Odeon, London 16/10/1981)
3. Sleepwalk (Live at Hammersmith Odeon, London 16/10/1981)
4. I Remember (Death In The Afternoon)
1. Stranger Within (Live at Hammersmith Odeon, London 16/10/1981)
2. Mr. X (Live at Hammersmith Odeon, London 16/10/1981)
3. Rage In Eden (Live at Hammersmith Odeon, London 16/10/1981)

Disc 4
1. Accent on Youth (Live at Hammersmith Odeon, London 16/10/1981)
2. The Ascent (Live at Hammersmith Odeon, London 16/10/1981)
3. Your Name (Has Slipped My Mind Again) (Live at Hammersmith Odeon, London 16/10/1981)
4. Vienna (Live at Hammersmith Odeon, London 16/10/1981)
1. Passionate Reply (Live at Hammersmith Odeon, London 16/10/1981)
2. Passing Strangers (Live at Hammersmith Odeon, London 16/10/1981)
3. We Stand Alone (Live at Hammersmith Odeon, London 16/10/1981)
4. All Stood Still (Live at Hammersmith Odeon, London 16/10/1981)
5. The Voice (Live at Hammersmith Odeon, London 16/10/1981)