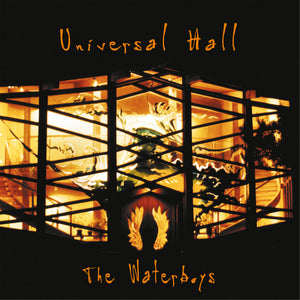 | | |
| --- | --- |
| Release Date: | 28/07/2023 |
| Format: | LP Orange Vinyl |
| Label: | Cooking Vinyl Limited |
| Catalogue Number: | COOKLP747X |
The Waterboys' eighth studio album is made available on vinyl for the first time, in 'Seville' orange. Originally released in 2003, 'Universal Hall' was recorded in the basement studio of the titular hall, a theatre and concert venue in Findhorn, Scotland. It is the most nakedly spiritual of the band's records, all the more so for having been mostly written and entirely made in the spiritual community at Findhorn. At the time of release, band leader Mike Scott described 'Universal Hall' as "a record containing eleven spiritual songs that articulate - to the best of my ability - the vision that drives, challenges, sustains and transforms me." This vision is explored in now-classic Waterboys numbers such as Peace Of Iona, The Christ In You and Universal Hall itself, One track, the celtic-flavoured I've Lived Here Before, was written with Liam O'Maonlai of Hothouse Flowers. The album also saw the return of the band's fiddler Steve Wickham, his first appearance on a Waterboys' record since 'Room To Roam' in 1990. The vinyl format is 180g Orange vinyl.
Tracklist:
1. This Light Is For The World
2. The Christ In You
3. Silent Fellowship
4. Every Breath Is Yours
5. Peace Of Iona
6. Ain't No Words For The Things I'm Feeling
7. Seek The Light
8. I've Lived Here Before
9. Always Dancing, Never Getting Tired
10. The Dance At The Crossroads
11. E.B.O.L.
12. Universal Hall