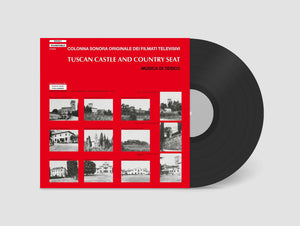 | | |
| --- | --- |
| Release Date | - |
| Format | LP Black |
| Label | Roundtable  |
| Catalogue Number | SIR010LP |

Shrouded in obscurity, the mysterious Teisco LP is perhaps the most bizarre artefact to emerge from the phenomenal world of Italian Library music. Originally scored for a 1978 RAI television documentary, the album titled Tuscan Castle and Country Seat conforms to nothing you know or understand about library music. Studying composition under maestro A.R Luciani, the young Teisco composed innovative home studio recordings that parallel the outsider technique of French soundtrack composer Francois De Roubaix. With little resemblance to the standard cues usually found on library music LPs, this is stoned underground psychedelic music of the most eccentric kind. Imagine lyrical Moog oscillations drifting loosely over baroque and hallucinogenic atmospheres, or alternatively, think the DIY guitar jamming of the Velvet Underground and Dream Syndicate mixed with the electronics of some lesser-known Krautrock band. Wherever this recording sits among the dusty shelves of forgotten stock music, it is highly personal, deeply rewarding and without a doubt the most mind-blowing record you will hear this year. This record is soon to be an outsider classic.
​
* First reissue of a lost underground Italian Library LP.
* Mind-blowing DIY Electronics and underground psych.
* Composed by Library-punk outsider Teisco.

Tracklist

1. White Gladiator 
2. Old Colours 
3. Green Water (Fly Leaf Above The Green Water) 
4. Tree To The Wind 
5. Vision Of Shore 
6. City Sound Perspective