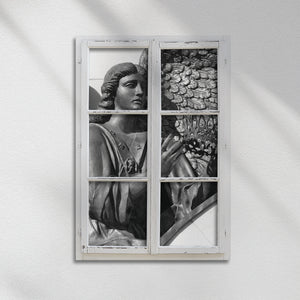 Release Date:
21/04/2023
Format:
LP Clear Vinyl/
CD
Label:
ATO
Catalogue Number:
ATO0599LP/
ATO0599CD


When Paul Janeway learned he was going to be a father, he was struck by "divine inspiration." Following the tradition of greats like Aristotle, William James and John Steinbeck, who wrote letters to their future sons, the singer decided to scribe his own thoughts — of joy, of fear, of confusion — as messages to his then-unborn daughter.
Those letters ultimately became Angels in Science Fiction, the stunning fifth LP from his band, Alabama genre-benders St. Paul and the Broken Bones.
Angels in Science Fiction stretches the band's limbs further out from their early southern-soul style, building on the shadowy psychedelia and intricate, experimental R&B of recent LPs like 2022's The Alien Coast.

Tracklist:
1 Chelsea
2 City Federal Building
3 Magnolia Trees
4 Sea Star
5 Heat Lightning
6 Angels In Science Fiction
7 Wolf In Rabbit Clothes
8 South Dakota
9 Oporto-Madrid Blvd
10 Lonely Love Song
11 Easter Bunny
12 Marigold