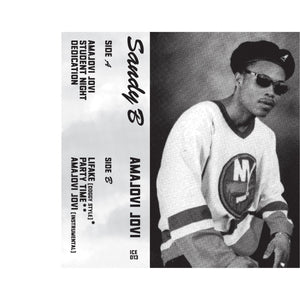 | | |
| --- | --- |
| Format: | LP |
| Label: | Invisible City Editions |
| Catalogue Number: | ICE013 |
Invisible City returns with the hotly anticipated reissue of Amajovi Jovi by Durban's kwaito giant, Sandy B. Originally self-released on cassette and a white label 12" in post Apartheid South Africa in 1994. Amajovi Jovi is a type of dance.

Massive rave basslines, pounding drums, flutes, sirens, beer bottle sounds interweave along side Sandy's flippant staccato Zulu rap with nods to Snoop Dogg, Sci-Fi Cosmic Synths and G-funk.

A fave of Jamie Tiller, Tako, and jammed by Young Marco on his most recent Boiler Room
We've been blasting this at the shop and at every party.
Limited Vinyl Reissue. Designed by Zeitype.
Tracklist:
1. Amajovi Jovi 
2. Student Night 
3. Dedication 
4. Lafaki (Doggy Style) 
5. Party Time 
6. Amajovi Jovi (Instrumental)