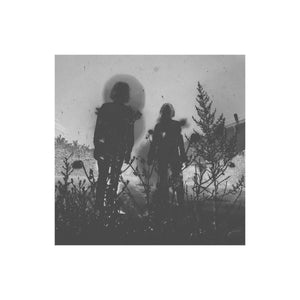 | | |
| --- | --- |
| Release Date: | 09/02/2024 |
| Format: | LP Black |
| Label: | Maple Death |
| Catalogue Number: | MDR55 |
Creeping through an imaginary border, sidesteppin' through the night like cyber phantoms eavesdropping on early morning machinery shifts, an industrial solstice for pagan mystics. After five years Torino's mysterious SabaSaba are back with 'Unknown City' an imaginary soundtrack for a dystopian city: digital raga, horror Exotica, half-speed techno, metallic dub and organic electronics.
The duo of Andrea Marini (synth, guitar, electronics, tapes) and Gabriele Maggiorotto (drums, percussion, effects, programming) return with their most political manifesto yet, an intricate musical essay inspired by China Miéville's novel 'The City And The City', examining border control, repression, an unknown city where people move like ghosts without personality and without communicating, monitored on sight by the authorities. SabaSaba's personal OST is a whirlwind of analog and digital instruments colliding, textured samples, syncopated drums and spiritual synth sweeps often heightened by Ambra Chiara Michelangeli's eerie viola playing, an ancestral force resisting under a cement tower, modulars gasping for air, endlessly reverberating into noir-soul and gray landscapes.
Like Miéville's two imaginary cities Ul Qoma e Besźel, SabaSaba's journey is cavernous, claustrophobic at times, but a clear sense of evasion and resistance breaks through, small flickers of light, like a cyborg calibrating himself - the hypnotic dub ambient of 'False Speech' - for an ecstatic liberation - the trance inducing 'Wrists Free' featuring UK industrial techno duo Jerome. 'Ul Qoma' unites Boards of Canada's emotional detune, with On-U Sound's terrestrial ground force, 'Night Plotters' kosmische elevation is chained to the ground, while 'Guarantee Safety In The Cities' fluctuates like a nightrider, eyes shifting left and right, a somber procession descending into grace and paranoia ; 'Catatonia' is a message of hope, off-kilter beats carrying solitude on an unknown path.
'Unknown City' is an album for dark isolationists but also for people trying to connect, striving for freedom, be it primordial, celestial or written in dust.
Tracklist:
1. Collapse
2. Desert Cathedral
3. False Speech
4. Night Plotters
5. Beszel
6. Guarantee Safety In Our Cities
7. Ul Qoma
8. Wrists Free (feat. Jerome)
9. Catatonia