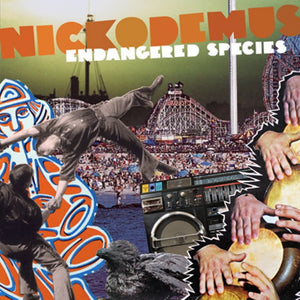 | | |
| --- | --- |
| Format | LP + 7" |
| Label | Wonderwheel Recordings |
| Catalogue Number | WONDERLP01 |

Wonderwheel Recordings with Nickodemus' 2005 debut album entitled Endangered Species for the first time as a full length vinyl LP. Coming from the global hip hop and house backdrop of New York City and his Turntables on the Hudson parties, like a time capsule of 2 decades ago, Nickodemus captured some of the best artists in his immediate circle & travels. Artists include Jay Rodriguez and Jonathan Maron of the Groove Collective, Carol C of Si Se, Victor Axelrod of Antibalas, Jean Shepherd of Radio Mundial, Ethan White of Tortured Soul, Will Holland (aka Quantic), Polo of La Familia, Dionysos and Stimulus of The Real Live Show, Nappy G, Apani B & Andrea Montiero.

Also included in this album pressing is a 7" of the two bonus songs that appeared in the 2006 ESL Music re-release, "Mi Swing es Tropical" with Quantic & the late great Hector "Tempo" Alomar On the A side & "Rhythm Love Reprise" featuring Victor Axelrod on the B-side.

Tracklist
Side 1
1. "Endangered Species" (feat Marcelino Galani) (3:25)
2. "Funky In The Middle" (feat Jay Rodriguez & Ticklah) (4:27)
3. "Give The Drummer Some" (feat The Real live Show) (4:30)
4. "Back From Africa" (feat Mitch Stein) (5:05)
5. "Crazy Stranger" (feat Harel Shachal) (7:03)
Side 2
1. "Cleopatra In New York" (feat Carol C - Zim Zam mix) (4:54)
2. "Peace Pipe" (feat Jean Shepherd) (3:57)
3. "The Spirits Within" (feat Apani B) (4:18)
4. "The Global Village" (feat MC Polo) (4:52)
5. "Mystery Of Life" (feat Andrea Monteiro) (5:28)

7 " Side 1
1. Nickodemus & Quantic - "Mi Swing Es Tropical" (feat Tempo & The Candela Allstars) (3:45)
7" Side 2
1. "Rhythm Love" (feat Victor Axelrod - reprise) (3:59)