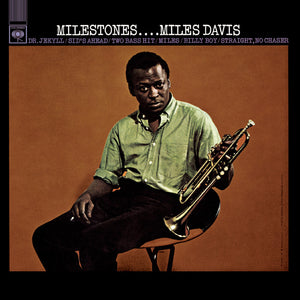 | | |
| --- | --- |
| Format | LP |
| Label | Music On Vinyl  |
| Catalogue Number | MOVLP983 |
A
crowning achievement—in terms of small band, hard 
bop interplay. A farewell of sorts—to the post-bop way of handling harmony and rhythm, and to some of Miles' mainstay sidemen. An excellent example of how the addition of one single player—in this case the loquacious alto saxophonist Cannonball Adderley—can turn the heat up exponentially, especially when placed alongside one as long-winded as Coltrane.
Milestones is all these things—and more. Miles' solos on tracks like "Dr. Jackle" are among the most incendiary of his recorded legacy, drawing their drive from his first true love, bebop. Yet his modern, edgy improvisation on the next track—"Sid's Ahead" (a sly reworking of "Walkin'")—suggests the modal ideas he's begun to consider, testing the brakes on bebop's fast-moving harmonies. In fact, the title track, a Miles original that features drummer Philly Joe Jones' signature offbeat rim-shot ("The Philly Lick"), is regarded as a preliminary sketch for the modal ideas that would come into play on his next album with Gil Evans—not to mention Kind of Blue.
Milestones is indeed a goodbye—the last time Miles would record with two of his great 1950s quintet: pianist Red Garland leaving in the middle of the recording sessions; Jones departing not long after. Their replacements—Bill Evans and Jimmy Cobb—would join Cannonball, Coltrane and Paul Chambers to create perhaps the all-star lineup to outshine all others.
Tracklist
Dr. Jekyll 
Sid's Ahead 
Two Bass Hit 
Milestones 
Billy Boy 
Straight, No Chaser