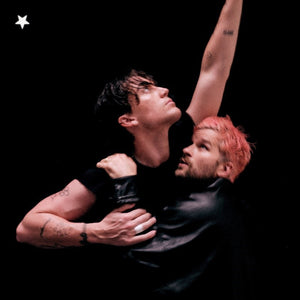 Release Date:
27/10/2023
Format:
LP/ CD
Label:
Sunset Garden
Catalogue Number:
6423756239/
6423777109

LANY have quietly cracked the mainstream on their own terms as one of the most ubiquitous, unpredictable, and undeniable alternative rock bands of this era. Tallying billions of streams, selling out legendary arenas, and earning widespread critical acclaim, the platinum-certified Los Angeles group consistently deliver rafter- reaching anthems anchored by airtight song-craft and the outsized personality of enigmatic frontman and
songwriter Paul Klein. Thus far, they've earned four gold singles—"Malibu Nights," "Super Far," "I Quit Drinking" [with Kelsea Ballerini],and "Mean It" [with Lauv]—in addition to scoring platinum status with "ILYSB." Nominated for"Best Pop Tour" in 2022by Pollstar (alongside Harry Styles, BTS, The Jonas Brothers & Maroon5) LANY's energetic, entrancing, and ever-evolving live show continues to captivate fans on multiple continents, as a huge draw worldwide. The 2021/2022 World Tour notably touched down in 17 countries, sold over 325,000 tickets and was highlighted by sellouts everywhere. Their music has incited the applause of everyone from GQ and WWD to Rolling Stone and Interview Magazine who went as far as to cite their breakout Malibu Nights as "the quintessential 2018 heartbreak album." 2023 sees the band re-team with
iconic producer Mike Crossey for their much-anticipated fifth album. LANY's next chapter begins now.
Tracklist
1. XXL
2. Out Of My League
3. Sugar & Cinnamon
4. I Pray
5. Home Is Where The Hurt Is
6. It Even Rains In LA
7. Heartbreak Can Wait
8. (Saturday Night) 3:22 A.M.
9. Love At First Fight
10. Congrats
11. 'Cause You Have To
12. Alonica