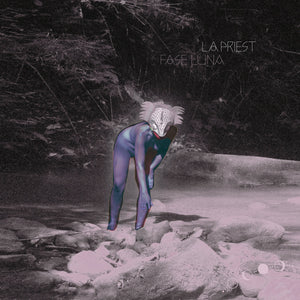 | | |
| --- | --- |
| Release Date: | 05/05/2023 |
| Format: | LP White Vinyl |
| Label: | Domino |
| Catalogue Number: | WIGLP499X |

Fase Luna is the ocean-inspired, wobbly-pop filled third album, by LA Priest, aka Sam Eastgate – due for release May 5th via Domino. Following 2020's GENE, named after a modular drum machine that Sam designed using 150 electrical circuits he'd built himself, Fase Luna strips things back to little more than Sam and his guitar: nine sunshine-streaked tracks of pure bliss.

Recording in Mexico and the rainforests of Costa Rica, Fase Luna draws inspiration from each area's mythical history and ancient connections to the ocean, drawing heavily on both to pack Fase Luna with stories of spirits and imaginations of life on the ocean bed. Raw and unfiltered, Fase Luna offers a one-way ticket to another world.

Tracklist:

1. On
2. Silent
3. It's You 
4. Misty
5. Star 
6. Sail On
7. Neon
8. Ocean
9. No More