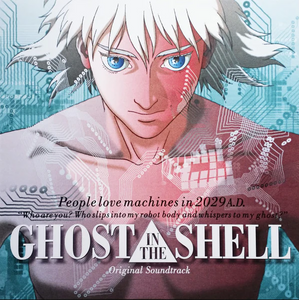 | | |
| --- | --- |
| Format | LP |
| Label | We Release Whatever The Fuck We Want Records |
| Catalogue Number | WRWTFWW017 |

The soundtrack to Mamoru Oshii's critically acclaimed sci-fi anime Ghost In The Shell, composed by Kenji Kawai.

Composer Kenji Kawai was chosen to recreate the futuristic cyber-punk atmosphere that emanates from the 'Ghost In The Shell' manga, into music. Assisted by the percussionist Yuhki Sugawara, Kenji Kawai reached the summit of his art by delivering captivating music, halfway between ambient electronics, traditional Japanese music and Buddhist ritual singings. The synthetic and ethereal soundscapes, almost disturbing, blend perfectly with gongs, bells or female choirs filled with echoes. The listener is plunged into a dreamlike fable sound with a striking and evocative poetry that is reminiscent of the soundtrack of a certain Akira.

Tracklist:
1. Making Of Cyborg
2. Ghosthack
3. Puppetmaster
4. Virtual Crime
5. Ghost City
6. Access
7. Nightstalker
8. Floating Museum
9. Ghostdive
10. Reincarnation