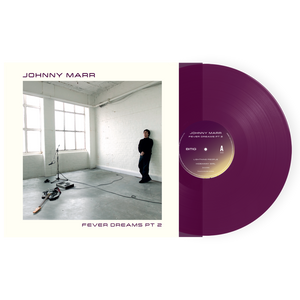 | | |
| --- | --- |
| Release Date | 17/12/2021 |
| Format | 12" EP Limited Violet Vinyl |
| Label | BMG |
| Catalogue Number | 4050538691078 |

Due for release on December 17th, the 'Fever Dreams Pt 2' EP will preview four brand new tracks that make up the second quarter of Marr's forthcoming double album, 'Fever Dreams Pts 1-4'. Sensory Street, Tenement Time, Lightning People and Hideaway Girl.

'Sensory Street' follows on electro soul album opener 'Spirit, Power and Soul's anthemic strand, a startling track with strident electronics, whilst 'Tenement Time' marks the end of the double album's first half. A rousing, reflective creation fusing sonic power with an emotional potency. Both highlight 'Fever Dreams Pts 1-4's sheer sonic scale.

Tracklist
Side A
Lightning People
Hideaway Girl

Side B
Sensory Street (Explicit)
Tenement Time