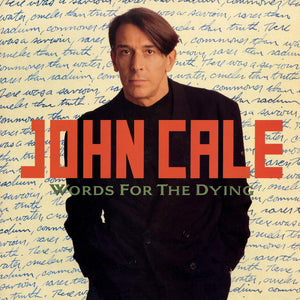 | | |
| --- | --- |
| Release Date: | 04/08/2023 |
| Format: | LP Clear Vinyl |
| Label: | All Saints Records |
| Catalogue Number: | WAST006LPC |

First time vinyl repress of this John Cale album, originally released on the Opal label in 1989, produced by Brian Eno.

 "'Words For The Dying' has at its heart The Falklands Suite, Cale's baroque if heartfelt
response to the Anglo-Argentinian War, which finds him setting the poems of his beloved Dylan Thomas to music. When building songs around another's words, the results often sound forced, but Cale does a magnificent job of compressing Thomas's lyricism into neat melodic phrases, themselves just components of a vast harmonic
mega-structure scored for the USSR's Orchestra of Symphonic & Popular Music of Gostelradio. A project that could easily have collapsed under the weight of its own ambition is instead a late masterpiece, thanks to Cale's deep-seated compositional genius, and unobtrusive but resonant production from Brian Eno." - Kiran Sande

Clear vinyl with printed inner sleeve and digital download card.

Tracklist:
The Falkland Suite
Introduction
There Was A Saviour
Interlude I
On A Wedding Anniversary
Interlude II
Lie Still, Sleep Becalmed
Do Not Go Gentle Into That Good Night

Songs Without Words
Songs Without Words. I
Songs Without Words. II

The Soul Of Carmen Miranda