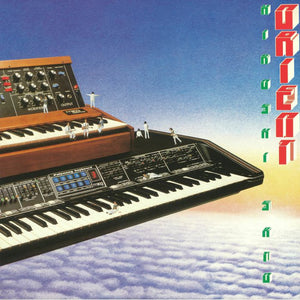 | | |
| --- | --- |
| Format: | LP |
| Label: | We Want Sounds |
| Catalogue Number: | WWSLP12 |

Hiroshi Sato's ultra rare synth masterpiece, originally released in 1979 on Kitty Records in Japan only. Digitally remastered from the original tapes, Orient features the cream of Japanese musicians including Shigeru Suzuki on guitar, Haruomi Hosono on bass, Pecker on Percussion and Sato himself on keyboards and synthesizers. This highly sought-after album on the Balearic scene, changing hands for high prices, is a superb breezy mix of Japanese synth-pop and exotica with subtle touches of mid 70s Herbie Hancock-style funk and AOR.

Tracklist:
Side 1
1. "Kalimba Night" (4:24)
2. "Son Go Kuw" (4:16)
3. "Tsuki No Ko No Namae Wa Leo" (4:11)
4. "Doncama" (2:30)
Side 2
1. "Jo-Do" (4:19)
2. "Sora Tobu Jutan" (3:34)
3. "Picnic" (3:41)
4. "Hikaru Kaze" (3:45)