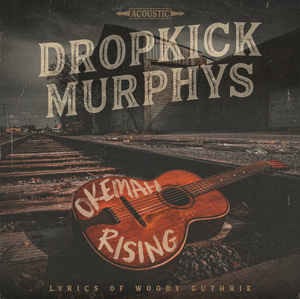 | | |
| --- | --- |
| Release Date: | 12/05/2023 |
| Format: | LP |
| Label: | Dummy Luck Music |
| Catalogue Number: | DLM003LP |

"Okemah Rising is the final installment of the Woody Guthrie/Dropkick Murphys collaboration, so we wanted to bring it home with a bang. Whereas the goal of This Machine Still Kills Fascists was to raise consciousness, Okemah Rising intends to raise the roof. Sure, it has one or two tender moments, but all in all it's much more of a party than TMSKF. Even a party record can have a message though – we've felt that on the road over the last few months as we've played Okemah Rising songs "Gotta Get to Peekskill" and "I Know How It Feels" on tour all over the world. Every night, when the audience is singing along with Woody's words, his steadfast defense of the working class, and his fight against social injustice and the abuse of political power comes across loud and clear. So as long as Dropkick Murphys are involved, Woody's message will always be heard."

 Tracklist:
1. My Eyes Are Gonna Shine
2. Gotta Git To Peekskill
3. Watching The World Go By
4. I Know How It Feels
5. Rippin Up The Boundary Line
6. Hear The Curfew Blowin
7. Bring It Home
8. Little Boy
9. Run Hitler Run
10. I'm Shipping Up To Boston - Tulsa Version