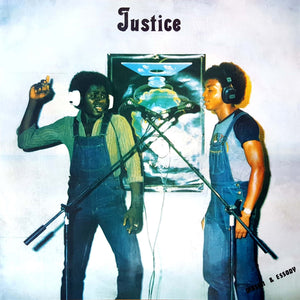 | | |
| --- | --- |
| Format | LP |
| Label | Dig This Way  |
| Catalogue Number | DTW005 |
 
When you sneak-a-peek at the title of this forthcoming pressing, "Justice", you might be surprised to know that a monster boogie track, or actually a good handful of them, are hidden right beneath those 7 bolded letters.

Dig This Way Records and Sleeve Records have combined forces for this one, to make the impossibile, possible: Dibson & Essody's, "Justice".

Originally recorded in '82 and stamped on the distinguished Nigerian label Wilfilms, this extremely rare, revelation of music was meant for sharing and the two labels will be doing just that. Reworked and remastered, this 7 track dance floor masterpiece is coming to a turntable near you.

Following the 1960 Nigerian liberation from Western colonization, Nigeria began to use music to vibrate everyone into a place of harmony and community. The majority of pressings that came out from within the Nigerian state paired disco, funk infused beats with strong, political lyrical statements. In this release from Dibson & Essody, the political undertones of "Justice" blended with the smoldering grooves of "Music Lovers" and "Let Your Body Move" classify this disco under the monumental must-haves of Nigeria from the early 1980s.Side one kicks off with a heavy rhythmical beat, driven by funky synthesizers in a track called "Music Lovers". Followed by a lyrically driven track, "No Ones Gonna Live Forever", with vocals resonating over percussions and flugelhorns. Side two is packed with two goodies: "Let Your Body Move", composed of a funky bass line and layers of percussions, and then the famous "Justice" track that combines catchy guitar riffs with memorable piano chord progressions.Stamped under one of the most esteemed labels Wilfilms, owned by the most enigmatic figures in Nigerian music, William Onyeabor, Dibson & Essody's "Justice" is one for the taking. Dig This Way and Sleeve Records are happy to take the reigns on this one to make sure this funky themed disco will be available for all to hear.

Tracklist

1. Music Lovers 
2. No One's Gonna Live Forever 
3. Keep On Trying 
4. My Love Is For You 
5. Music Makes You Move 
6. Let Your Body Move 
7. Justice