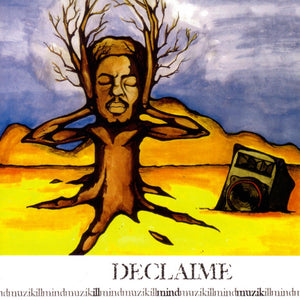 | | |
| --- | --- |
| Release Date: | 02/12/2022 |
| Format: | LP |
| Label: | Someothaship Connect |
| Catalogue Number: | SOS008LP |

Known for his proudly bugged-out delivery and laid-back style, the immensely likeable Declaime, p/k/a Dudley Perkins is pleased to re-release his debut solo LP, Illmindmuzik on vinyl for the first time since 1999. Produced entirely by his longtime homie Madlib, the Oxnard-based duo concoct a seriously funky listening experience that combines Declaime's delightfully woozy verses centered around crate-digging and mind expanding, over the Beat Konducta's blunted instrumentals. Illmindmuzik is a must for fans of Cali underground hip-hop and boasts guest appearances from the likes of the Lootpack, Evidence and more, and includes the stand out singles, "Let It Be Known" and "Roll 'Em Right." -First vinyl pressing in over 23 years, since initially released in 1999. Produced entirely by Madlib, Illmindmuzik marks Declaime's official debut solo LP.

Tracklist

1. Intro
2. Let It Be Known
3. Skit #1
4 . Illmindmuzik
5. Illbeat (Madlib's Madness Interlude)
6. Trouble N da West (feat. Evidence, Wildchild & Sean Biggs)
7. Roll 'Em Right
8. World Domination (feat. Spontaneous)
9. Skit #2
10. Wicked Wayz