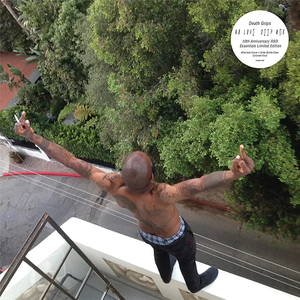 | | |
| --- | --- |
| Release Date: | 14/10/2022 |
| Format: | LP Coke Bottle Clear Vinyl |
| Label: | HARVEST/THIRD WORLDS |
| Catalogue Number: | 602445567430PMI |
10th anniversary limited edition with alternate cover, pressed on coke bottle clear vinyl.
No Love Deep Web is the second studio album by American experimental hip hop group Death Grips, originally released via their website on October 1, 2012. Recorded from May to August 2012, it exhibited what the group described as a darker, more minimal style, and was leaked by Death Grips themselves due to complications over its release date with their label Epic Records, who subsequently dropped them. The album was later made available for purchase via the band's own Third Worlds imprint and Harvest Records.
Tracklist:
1. Come Up and Get Me
2. Lil Boy
3. No Love
4. Black Dice
5. World of Dogs
6. Lock Your Doors
7. Whammy
8. Hunger Games
9. Deep Web
10. Stockton
11. Pop
12. Bass Rattle Stars Out the Sky
13. Artificial Death in the West