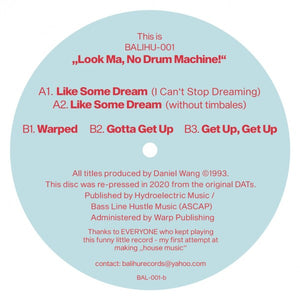 | | |
| --- | --- |
| Format | 12" EP |
| Label | Balihu Records |
| Catalogue Number | BAL001 |

Considered a bit of a classic in the field of disco/house, this reissue of Daniel Wang's mighty 1993 classic debut comes at a time when all things proto-disco are enjoying a surge in interest, and this sounds like a veritable 'How To' manual for the genre.

Wang's tight sample-based productions are a bonafide joy to the ears - this is an edits 12" where the joins have been smoothed over to the point where it all sounds incredibly organic. There are five pretty indispensable cuts here, don't miss out a second time around...

Tracklist:
A1 Like Some Dream (I Can't Stop Dreaming)
A2 Like Some Dream (Without Timbales)
B1 Warped
B2 Gotta Get Up
B3 Get Up, Get Up