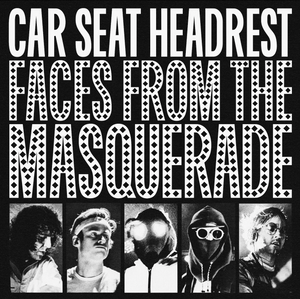 | | |
| --- | --- |
| Release Date: | 08/12/2023 |
| Format: | 2LP |
| Label: | Matador Records |
| Catalogue Number: | OLE2028LP |

"The 2022 "Masquerade" was a crazy tour that ignited with a particular ferocity once we touched ground on the east coast. Our time in New York captures that momentary magic where we're playing at our peak and the crowd is responding as one giant body."

- Will Toledo, Car Seat Headrest

On March 28th-30th 2022, Car Seat Headrest played three consecutive sold out nights at Brooklyn Steel in New York. An air of celebration, community and showmanship was present, made all the more palpable as the shows were far from a certainty - they took place amidst a year which saw the band having to postpone or cancel a large swath of their North American tour dates due to ongoing health issues.

The three night residency is captured on Faces From The Masquerade - a double album's worth of live performances that finds Car Seat Headrest at their most playful, exuberant and precision honed. The title alludes to the by now familiar, custom-made gas mask worn by frontman Will Toledo at shows, complete with an expressive LED display for eyes. In addition to the group's four core members - Toledo, guitarist/backing vocalist Ethan Ives, bassist Seth Dalby and drummer Andrew Katz - they were joined on the tour by keyboard player Ben Roth.

From the slow burning and atmospheric 'Crows' ("It always felt like the right track to start off the Masquerade tour," Toledo notes in the album liner notes on the 8-minute opener, "it was gloomy, it was dancey, and in ten years we'd never played it live") to the mosh-pitting and anthemic 'Fill In The Blanks' ("We went back to a big, fat rendition similar to the original for this tour, not the funky version we'd been rolling on the Twin Fantasy tour") to the sprawling and epic 'Beach Life-In-Death' ("We re-arranged this one to have a bit more restraint up until the breaking point on "-dooooooggssss?" You wanna keep things dynamic with a 13+ minute song"), to the revisionist 'Deadlines' ("After experiencing various mutations throughout the recording process of Making a Door Less Open, this song got ANOTHER revamp for the live show to turn it into the climactic dance monster it always wanted to be"), Faces From The Masquerade is simultaneously a joyride through the greatest hits and a conversation with the devoted and ever-growing following that has formed around the band, their songs and live communions.

Bartees Strange joins the proceedings for an interpolation of 'Can't Cool Me Down' and 'Vincent' along with his drummer Jordyn, and they "turn it from a spaced-out jam into a big party," as Toledo notes. "We had a stomp box on stage that would mute the mic in case I needed to cough, sneeze or wheeze. I never used it (let the world hear my wheezing), but this particular night someone managed to stomp on it during Bartees's solo, so you can hear me giving up on the would-be Vincent chorus when I realize no one can hear me."

Elsewhere, Ethan Ives takes the lead on the fevered 'It's My Child (I'll Do What I Like)', a track originating from his side project Toy Bastard before joining the CSH fold. "As far as simply getting to ball out as a band, 'It's My Child' always felt like the highlight of the whole show to me", says Toldeo.

Twin Fantasy favorite 'Sober To Death' became something of a focal point as well as a mini-TikTok trend throughout the tour, with the song receiving reverential singalongs (as well as a notable streaming bump) night after night wherever it was played. "Another track not originally slated to be a part of this tour - it came up often enough in the polls that it soon got locked in. I think this hushed version gave everyone a welcome chance to breathe, especially this night in New York, where people were getting so wild it felt necessary to dial things down for a few minutes."

The physical also includes additional track "Can't Cool Me Down" – which is track 12 on the vinyl.

Tracklist: 
A1 - Crows
A2 - Weightlifters
A3 - Fill in the Blank
A4 - Hymn
B1 - Hollywood
B2 - Bodys
B3 - Something Soon
B4 - 1937 State Park
B5 - Sober to Death
C1 - Drunk Drivers/Killer Whales
C2 - It's My Child (I'll Do What I Like)
C3 - Can't Cool Me Down
D1 - Beach Life-In-Death
D2 - Deadlines