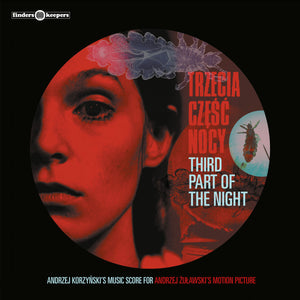 | | |
| --- | --- |
| Release Date | 29/09/2023 |
| Format | 10" |
| Label | Finders Keepers Records |
| Catalogue Number | FKR063X |

As one of the most triumphant and beguiling directorial debut features to emerge from the fruitful Polish New Wave, Andrzej Zulawski's 1971 film 'Third Part Of The Night' not only earned the 30-year old filmmaker a place next to other radical Polish directors such as Polanski, Skolimowski and Has, but also galvanised a creative bond with long running collaborator and composer Andrzej Korzynski, providing fans of foreign abstract/suspense cinema with a potent creative fusion to match those of Polanki/Komeda, Fellini/Rota and Argento/Goblin, amongst others.

Quite simply one of the heaviest psych rock film soundtracks of all time, Andrzej Korzynski's short and unreleased score matched the blueprint that adorned the drawing boards of conceptual French jazz orch rock composers like Jean-Claude Vannier, Francois De Roubaix and Alain Gourageur, creating a soundtrack that unknowingly begs comparison to Masahiko Satô's Belladonna Of Sadness and Billy Green's Stone. As one of the first progressive pop writers to come out of the vibrant (but carefully scrutinised)
Polish beat scene with his bands Ricecar and later Arplife (and composingfor national heroes such as Czeslaw Niemen, Niebiesko-Czarni and Test) Korzynski's growing passion for conceptual rock and jazz music soon lead to instrumental composition and soundtrack scores. 

Tracklist
Czolowica
Tango
Winstyucie
Dworek
Na Strychu
Lapanka
Szpital
Szpital Part 2
Czolowica (Reprise)